Maserati, 'Beyond Fortune,' Forbes Magazine
Copywriter: Matthew Dickman
Photographer: Ander Overgaard
Sometimes we look at these pages and we think the people staring back at us were born into fortune, born under some lucky star, that they simply appeared out of nowhere to run the world.
But the truth is they didn't. Like us they fought for who they are. The men and women you see here dared to think for themselves, dared to try something original even if it was scary, even if no one had any faith in what they were trying to do.
Innovation and creativity aren't given to us at birth. They are built out of hard work and harder lessons.
These men and women are dreamers and survivors that have become entrepreneurs, inventors, world leaders, mothers and fathers. They chose independent paths to find new things, better ways, and to make a difference in the world.
The next few pages do not focus on how much money they made or what their stock is worth. Instead it's Lisa Eryn Silverman, Paul Berry and Joey Gonzalez in a salute to people like them, the independent paths they took, their choices of rewarding themselves for their hard work, and their stories that begin with being a person and end far beyond fortune.
PAUL BERRY
Protecting his private journals from prying eyes he wrote code at a young age and password protected his files. Founded "Rebelmouse" in 2012 and now his company operates in 27 countries. Paul's unique drive matches his lifestyle and his choice of what he drives. He looks for subtly and exclusivity matched with the daily thrill at his work place and during his drive to and from work. It's why he leans on choices that deliver just that.
November 5, 3:48PM
Paul leaning on Maserati Quattroporte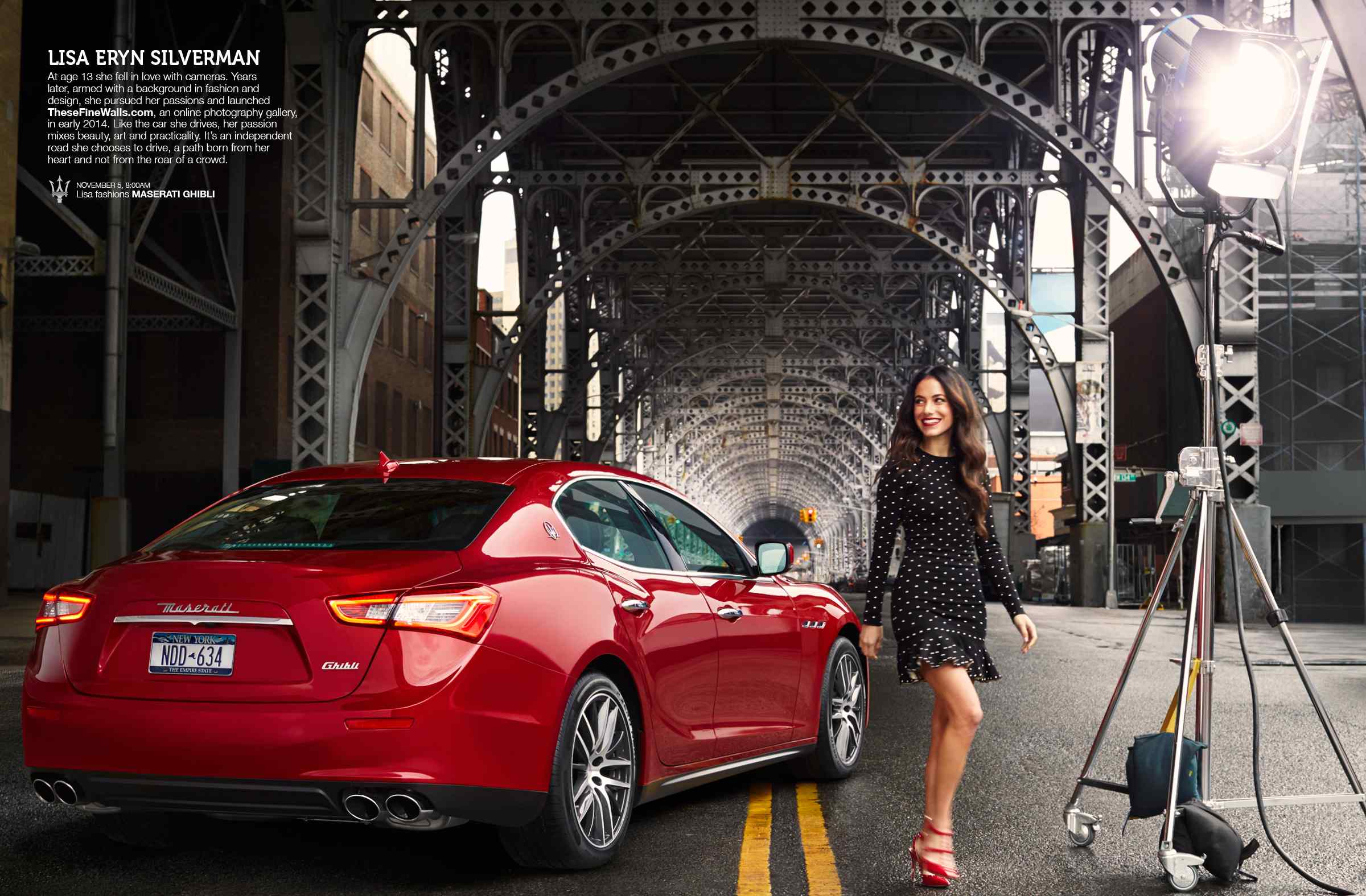 LISA ERYN SILVERMAN
At age 13 she fell in love with cameras. X years later, armed with a background in fashion and design, she went back to her original passion and launched "These Fine Walls", an online photography gallery business in early 2014. And like the car she fashions, her passion mixes beauty, art and practicality. It's an independent road she enjoys to drive which came from her heart and not from the roar of a crowd.
November 4, 4:16PM
Lisa fashions Maserati Ghibli
JOEY GONZALEZ
Raised in a health conscious house with sibling athletes, Joey, (his age here), dreamed of extending the health and athletics culture outside the circle of his family and to transform people to the better. Literally. Now running "Barry's Boot Camp" world operations, Joey's hands-on health and athletics programs do just that. Athletics and good looks are the core of his business model. But it's not flash he's after. It's forging change in people's choices and building inner strength to sport the best shape, the best mental state and the best rides that fill our roads with blue shaded adrenaline.
November 6, 2:04PM
Joey sports Maserati Gran Turismo Sport